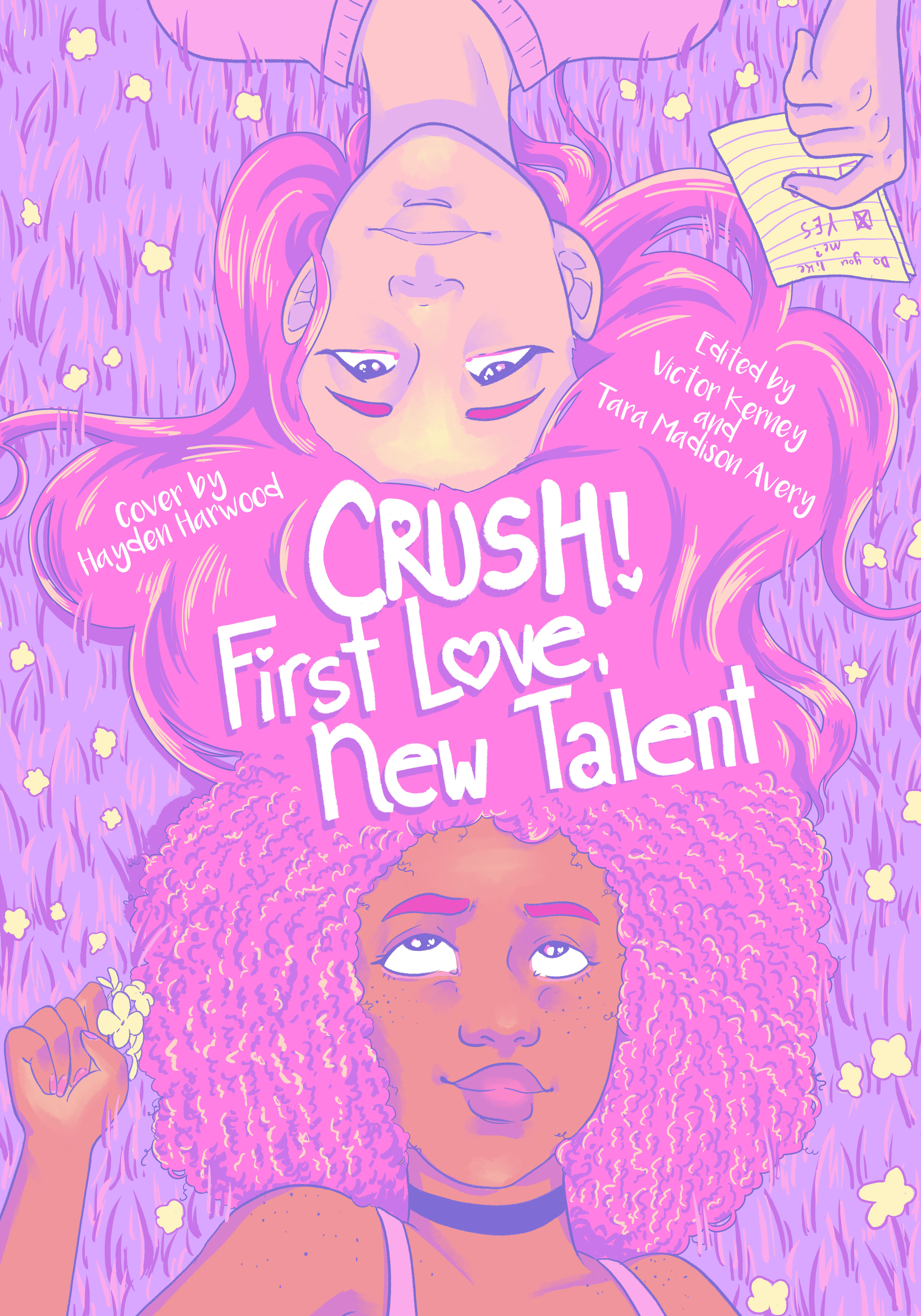 A Kickstarter campaign for Crush: First Love, New Talent is running now through July 10th. The backer rewards include digital and print editions of the book, Crush-themed tote bags, stickers featuring original art, coloring books, and sketches from the contributing creators.
Crush: First Love, New Talent is a comics anthology featuring 24 all-new stories about young queer romance. Stacked Deck Press in association with Prism Comics and the City of West Hollywood conducted a talent search for up and coming LGBTQAIU comics creators with a special focus on emerging queer identities such as asexual, genderqueer, pansexual, and others. The resulting group of 24 cartoonists and creative teams is drawn from all over the world.

Crush: First Love, New Talent will contain over 200 pages of comics content printed in trade paperback format. The co-editors on the project are Tara Madison Avery, publisher of Stacked Deck Press, and Viktor Kerney, author of Strangelore and Prism Comics board member. The book features a cover designed and illustrated by contributor Hayden Harwood.

The contributing creators include: Jaime Aguilar, AmyEYE, atelierMuse, Tate Brombal and V. Gagnon, Caroline Cao and Marie Wu, Mylo Choy, Mike Ciriaco and Terry Blas, Caterina Gerbasi, Rachel Gorman, Katya Granger, Hayden Harwood, Mei Lian Hoe, Skylar Kardon, E.J. Oakley, Can Richards, Max Spragovskiy, Daniel Stalter and Eleanora Kortsarz, Ravi Teixiera, Twolle and Lyn Straine, Stefani Vlusha, Letty Wilson, Cin Woodworth and Hendrick Kneeland, Priscilla Wu, and Potassium Wisteria.

Crush: First Love, New Talent will have a launch party on June 30th at the West Hollywood Public Library in the City Council room. Several contributing creators will be reading their selections from the anthology. Advance copies of the book will be available for purchase, and the creators will also be available to sign books. There will also be a panel discussion at the 2019 San Diego Comic-Con devoted to Crush: First Love, New Talent featuring Tara Madison Avery, Viktor Kerney, Mike Ciriaco, Hayden Harwood, E.J. Oakley, and Max Spragovskiy. Copies of Crush will be available for purchase at the Prism Comics table at booth 2144 and at the Stacked Deck Press table L-06 in the small press section.

Stacked Deck Press is publishing house specializing in comics and coloring books of LGBTQAIU interest. Their publications include the Bisexual Book Award-winning Primahood: Magenta and the Lambda Literary Award Finalists ALPHABET, RESISTANCE, and We're Still Here.